Earth Day 2022
To celebrate Earth Day and this year's theme 'Invest in Our Planet', we are shining a light on one of our partners, the LEAF Coalition, and its mission to end deforestation while protecting communities around the world.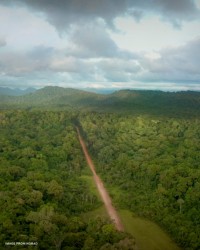 Protecting, Restoring and Regenerating Nature
LEAF stands for Lowering Emissions by Accelerating Forest finance and aims to end and reverse tropical deforestation by 2030. The organisation brings together public and private sectors to provide financial support to forest regions around the world, such as South and Central America, and reduce emissions associated with deforestation and forest degradation. To date, the coalition has mobilised more than $1 billion for tropical rainforest conservation globally.
In 2021, we became the first luxury brand to sign up to the LEAF Coalition as part of our new biodiversity strategy, which is focused on protecting and restoring nature, expanding support for farming communities and developing regenerative supply chains. Since joining, we have collaborated with teams to share insights and shape support for these initiatives. Together, we are working towards the conservation and regeneration of the world's precious rainforests.
Forests are a lifeline for communities and ecosystems across the world. They are also critical to slowing climate change. With millions of hectares of rainforest being destroyed annually, we need to be investing in the preservation and restoration of these habitats now more than ever. Through empowering tropical and subtropical forest countries, we can safeguard our planet for the future and ensure the livelihoods of generations to come.
We are proud to continue our support of the LEAF Coalition and we look forward to sharing more about our partnership in the coming months.
We're proud to support the LEAF Coalition and build on further climate positive commitments, outlined in our Biodiversity Strategy.